Found - Live tracking
Live tracking is a Found feature meant to help to find your item by tracking it in real-time. Once activated, you to will get location updates every few seconds shown on the map.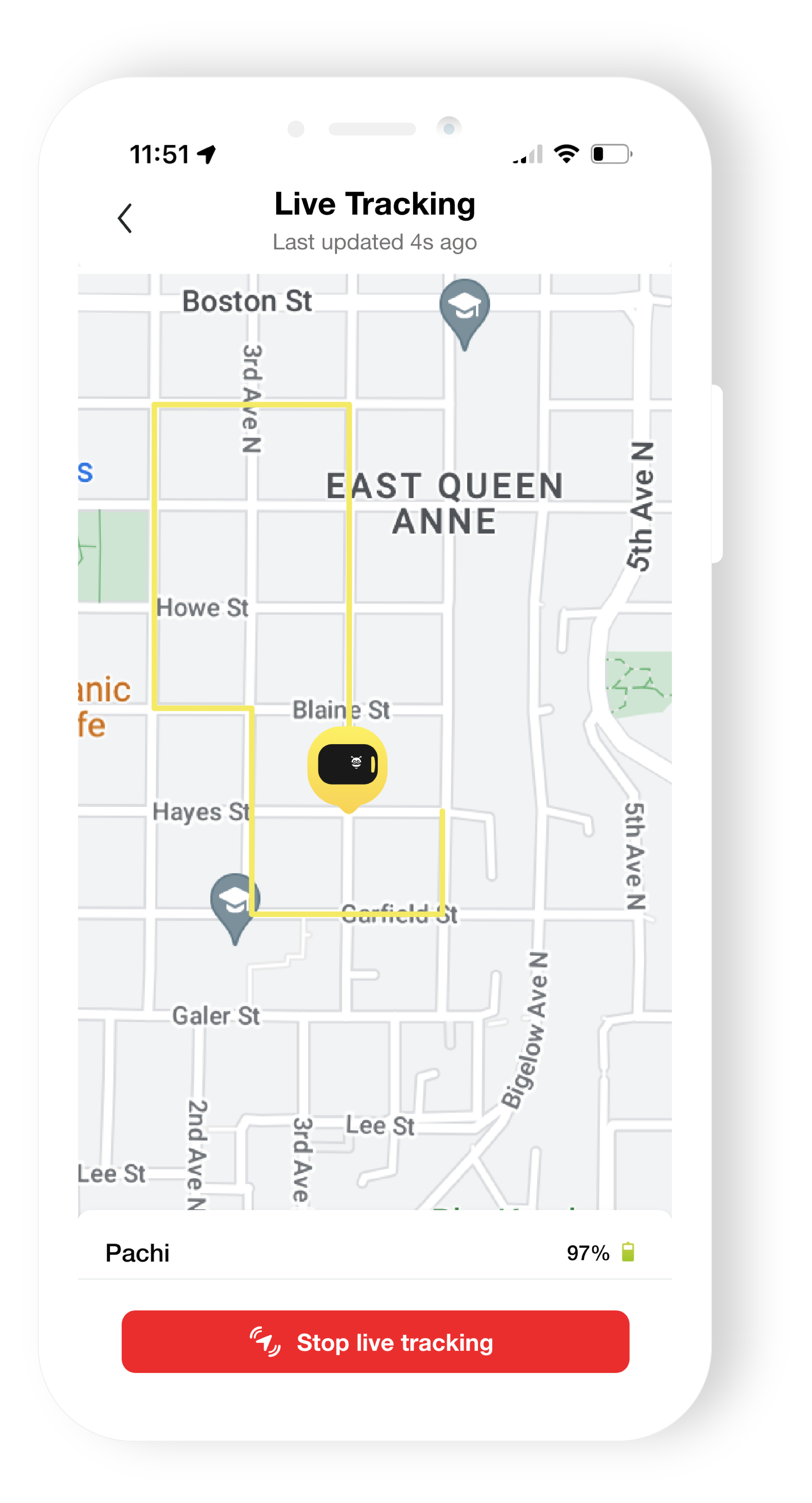 This feature is still on Beta status feel free to share your feedback to beta@pebblebee.com.
How to use Live tracking
Open your Found device details.
Enable Live tracking.
Wait for the change to apply. You will be notified once live mode is available.
Click on 'Start'.
Keep the screen open. Once a location is available, you will start seeing the device's movement on the map.
To stop the feature, just hit exit. Live tracking will stop and your device will be set back into Finding tracking mode.
Live tracking History
For now, the detailed track path recorded on live tracking is only available while live tracking screen is open. You will still see visited location points on History.
Is live tracking history something you would be interested? Please let us know by sending a feedback to beta@pebblebee.com.
Battery life
Live tracking makes your device send location updates every 6 seconds. This consumes the battery faster than other tracking modes, so keep an eye on the battery level and switch it OFF before it gets low.
The live tracking will automatically turn off if you reach 10% of battery.
Important notes
Tracking mode must be set to 'Finding mode'.
The time to switch between tracking modes depends on the tracking mode you have set previously. Please check the
Found tracking modes
for more details.
Your device must be disconnected from Bluetooth to enable live tracking.
You must keep the app screen open. The track path won't show if you lock the screen.
This feature is intended for outdoor use only. In order to update with a location, the device must be in a place with cellular coverage and be able to connect over GPS.
The location might fail to update indoors. It will resume once a new location update is available.
An active subscription is required to use this feature.
Why I don't see a track on Live tracking screen
Live tracking is meant to track your device outdoors. You should be able to get frequent updates when it's moving in an open space but you won't see it if it's enclosed or indoors far from any window.
It might take a few minutes for your device to start showing on the live tracking screen. So, please allow at least 5 min before exiting the feature, and don't lock the phone while you wait.
Once it starts, it will continue to show location points every few seconds until you disable it. There might be cases where the device will lose connectivity for a few minutes. As long as you don't exit the feature, the device will keep trying to reconnect and restart once a new location is available. If your device has moved indoors, please disable live tracking to save the device's battery.
The most common reason for a device not updating is if it cannot get GPS connectivity. Live tracking relies on GPS availability to update your device's location. The GPS technology requires an open view of the sky to estimate your device's positioning.
Some troubleshooting steps to try:
Check if there is an app update available.
Double check when was the last time seen for your device. If it has been days since its last update, it could be that the device needs to be recharged.
Make sure your phone has an internet connection.
Turn Bluetooth off on your phone if the device is nearby.
Exit the feature and try again.
Live tracking status
Enable: Allows to switch to 'Finding mode' right away and get a notification when live tracking is available.
Waiting: Your device is switching to Finding mode or is waiting for a GPS location reading to start live tracking.
Start: Live tracking is available to start on demand.
Fetching location: Live tracking has started and your device is waiting for the first GPS reading (shown inside the Live tracking screen).
---
---