A Found update is available
The Found is a product that continues evolving to give you an even better tracking experience. The way we keep your product up to date is by releasing improvements to the Found Operational System (FoundOS).
How do I know it's time to update?
You will be notified by the app when there is a new version of the FoundOS available. You will know that is time to update when you receive a notification and an 'Update' button shows up in front of your device.
The app only prompts you to do an update when your device is connected over Bluetooth. Even if you use your device over cellular, you should turn Bluetooth ON to check if a new update is available.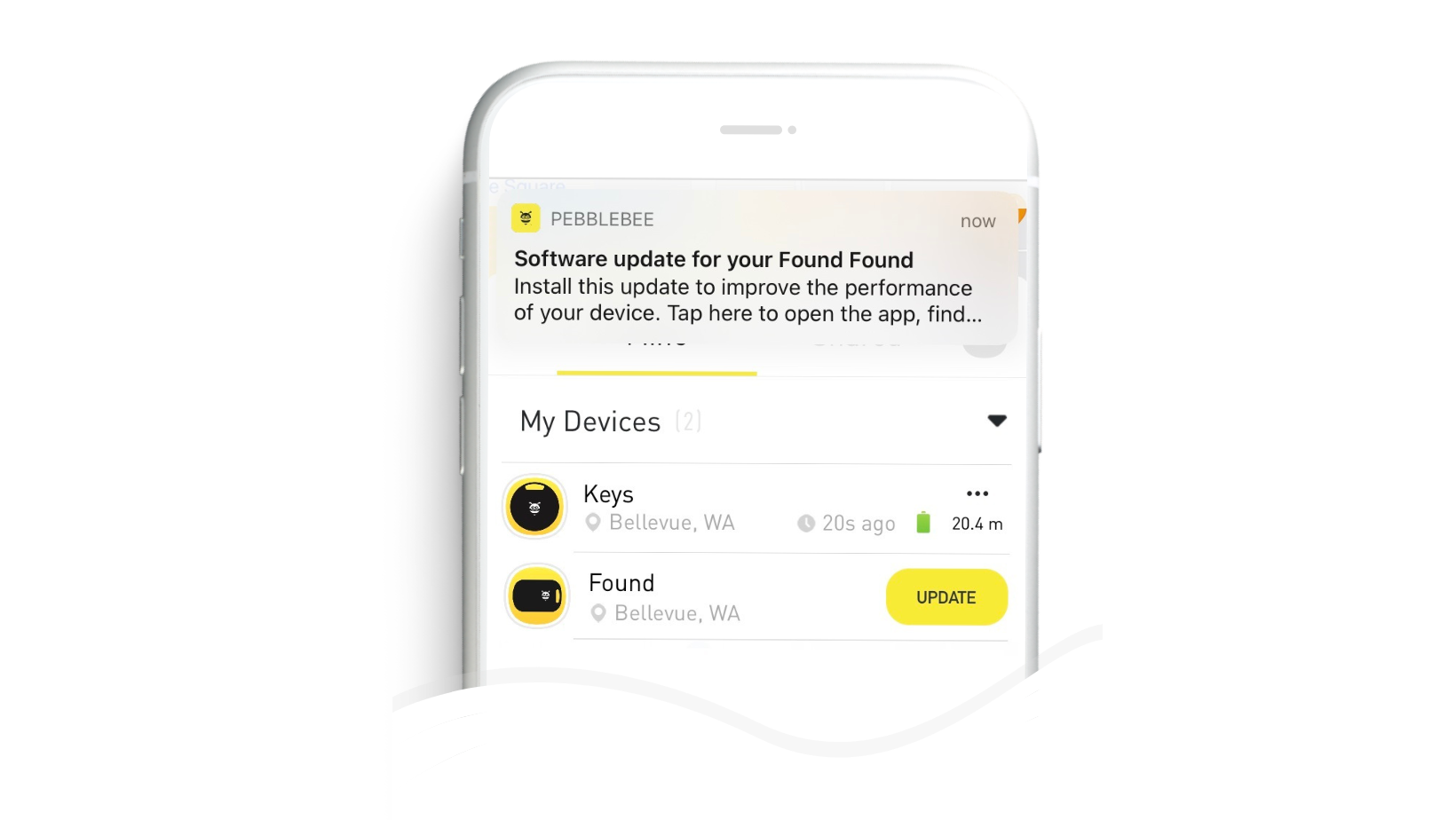 What should I do before updating my Found?
A Found OS update will load the most recent version of the Found OS to your unit. The process is similar to the one you did when you first added your device.
Before updating your device, please plug it in to charge. Performing an update usually consumes more power and the battery can drain faster than usual.
Keep the Found and phone (with Bluetooth ON) nearby until the update is completed.
You can use your phone while it updates, it should take between 2 to 5min to complete, and the app will notify you once it's finished.
The Found light will turn ON with blue color while it is updating.
Once it's over a screen will appear: FoundOS successfully updated!
If something goes wrong and the update fails, please make sure your Bluetooth is ON, bring the Found even closer to your phone and click on the Retry button. You can also close the app and restart the process.
What should I expect after the update?
Once the FoundOS is successfully updated you will be able to start using your device again normally. There will be no changes in the name, settings, or tracking mode that you have previously selected.
The Found update brings improvements and bug fixes to the Found. Since the LTE-M network is always evolving, we can always improve it to make it work on top of the available technology.
Can I downgrade my device to a previous FoundOS version?
Unfortunately, no. Our updates are always intended to make the device work better. We thoroughly test the new version before releasing a new version, but it's true that environmental conditions can affect its performance. If you believe we left something out on our latest update or if your device is not operating as well as before, we are very eager to hear your feedback.
Please send a message to our customer support at support@pebblebee.com and we will get back to you.
What if my Found stops working after the update?
If your device is not working properly after the update, please check our section for Found common troubleshooting steps. If none of them help you to fix your device, please reach out to our customer support at support@pebblebee.com and tell them what has happened.
---
---